Youth Zone Delivers Christmas Stocking Surprise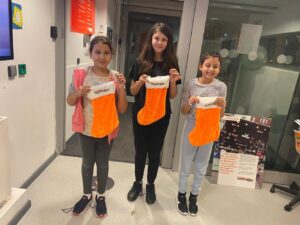 A local youth charity worked tirelessly over Christmas and New year to ensure over 1000 health and wellbeing Christmas stockings had been handed out to vulnerable young people across the borough.
With the support of local partners, Blackburn Youth Zone completed handing out stockings to its members and other young people across the Borough. Blackburn Youth Zone worked with 13 schools and 15 partners ensuring they reached the most vulnerable needing the support throughout Christmas and the New Year. The project was supported by local businesses and individuals.
Deborah Blades from Child Action North West said:
'The children, young people (CYP) and communities we work with are some of the most underrepresented and underprivileged in the borough. Traditional holidays such as Christmas are a tough time many of them. The Christmas stockings supplied by Mel at Blackburn Youth Zone brought much relief to families affected with poverty issues, CYP who suffer emotional health and wellbeing issues and young carers and care leavers who may not have received a gift at Christmas. We can't thank Mel and the team enough for putting smiles on the faces of the communities we support with this fantastic initiative.'
2020 has presented many challenges for our local communities and COVID has made life different for most and we are now seeing the damaging impact this has had on young people and families across the Borough.
Recently 31% of Blackburn Youth Zone members taking part in an online survey shared that their family was struggling for money due to the impact of COVID and related job losses. This year families are going to struggle to provide gifts and food for their children at Christmas.
Parent of a member from Blackburn Youth Zone said:
"My child has not been able to go to school for the past couple of months due to anxiety and the changes with COVID. I have been told to keep her home by the doctor, being a single my and having 3 children. She is scared to attend Youth Zone or go outside, but she really appreciated her stocking and the support she had from Blackburn Youth Zone over Christmas.'
Headteacher a SEMH School in Blackburn said:
"A big thank you to Blackburn Youth Zone who have gone the extra mile in supporting young people over Christmas and New Year, coming together to support young people as a community is more important now than ever before, thank you."