Calling all supporters of Blackburn Youth Zone!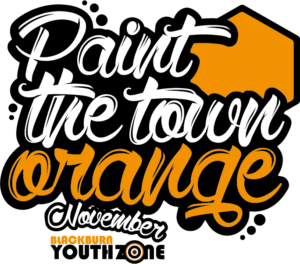 Throughout November we're going to Paint The Town Orange, raising vital funds and awareness for Blackburn Youth Zone. Simply come up with your own fun orange creative idea of how to fundraise for us and let us know! You could – wear something to work that is orange, have an orange fun day or even dye your hair orange!
For your free fundraising pack contact melanie.thomas@blackburnyz.org or call us on 01254 292000 and make sure you JOIN IN!
Why are the funds from Paint the town orange vital?
Blackburn has one of the highest Covid rates in the country and prolonged local restrictions, local young people have been excluded from engaging with positive activity and receiving the support they've been craving during the lockdown.
The stark reality of COVID-19 is that young people have been particularly significantly affected. With one of the highest rates of infection in the country and a further extended period of local restrictions, young people within Blackburn have suffered devastating damage to their mental health and emotional well-being, with no light at the end of the tunnel currently as to when restrictions might ease.
BYZ's own data reflects these themes in young people. In May BYZ members took part in BYZ's online surveys showing:
67% struggling daily with their mental health and emotional wellbeing

58% described prolonged loneliness

31% worried about the impact of Covid-19 redundancies and job losses would have on their family

34% described experiencing domestic violence during the lockdown.
Where do the funds go?
The irony of Covid-19 is that BYZ and community organisations are needed now more than ever by young people, yet the financial impact of Covid on us is huge. This is why Blackburn Youth Zone is needed now more than ever and these funds will go towards remobilising the BYZ program and engaging young people back into activities.
There are 42,000 young people in Blackburn with Darwen – 28.5% of the borough's population. Your help is vital in supporting Blackburn YouthZoneby giving them a safe space to have fun, socialise and learn new skills.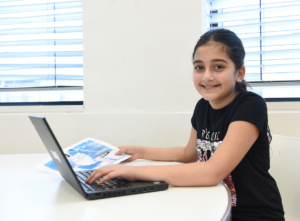 Who can fundraise?
Everyone can be involved; individuals, group of friends, company's, schools or clubs.
Ways to Paint the Town Orange:
Light up your buildings in orange/dress down days

Shops can have an orange window display competition

Your local sports team could wear an orange strip

Orange Bake Sale

Orange Fun Day

Paint the Town Orange event
How to fundraise and get involved
Wanting to join in and paint the town orange to show your support for BYZ?
Register your interest with

melanie.thomas@blackburnyz.org

You will then be sent your fundraising pack with ideas

Your company's logo will be displayed on a graphic that will be on all social media and up at Blackburn Youth Zone

If you need further support with your event please contact us.