Young People Prepare for Youth Zone Entrepreneur Event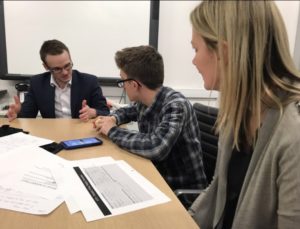 Young People at Blackburn Youth Zone have been taking part in mentoring sessions delivered by local businesses in preparation for a special competition aimed at encouraging the entrepreneurs of tomorrow.
Blackburn Youth Zone has partnered with SoupOTG to deliver a youth-led version of their popular event format which is a Dragons Den style event. Soup OTG is a community crowdfunding soup-catered social evening and funding initiative.
On the evening of the event, several young people will present their project idea in a bid to win your vote and secure funding to launch their plans. The young pitchers will deliver their final project pitch to a public audience on the 27th February 2019 at Blackburn Youth Zone from 7:15 pm, accompanied by their mentor. Should they win the pitch, they'll secure starter funding to launch their idea.
James Toppin, Deputy Relationship Director of HSBC said:
"This offers a fantastic opportunity for young individuals to learn and develop new skills, giving them the tools to realise their ambitions."
HSBC, Plenary Marketing, Organic Insurance, Pendle Consulting and Robin Oatridge & Co are businesses that have been supporting Blackburn Youth Zone young entrepreneurs by providing finance, marketing and presentation skills workshops; as well as providing one to one business mentoring.
Duncan Bennett Director of Organic Insurance said:
"I wanted to get involved because through years of experience being able to present, whether to an audience or to someone you have just met is a fundamental skill everyone should have but not specifically taught in schools. Being involved in a project that allows the youth members to create, project manage and present is a fantastic way of learning such skills and I was delighted, and slightly honoured, to help support such a project."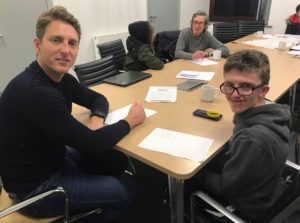 Established seven years ago, Blackburn Youth Zone provides a wide range of activities for young people aged 5 to 19 years old. With an entrance fee of just 50 pence, activities range from sports to arts, crafts and games. Facilities include a canteen, basketball courts, rooftop football pitch, climbing walls, dance studio, fully-equipped gym, live music room, electronic music room and a gaming room.
Raz Mohammed CEO Blackburn Youth Zone said:
"This is a fantastic project that has taken young people on a journey to learn different elements of business through the mentorship of successful professionals and business persons. They have learnt real skills and gained real knowledge to apply to their enterprise idea. I look forward to the event as they will pitch their ideas and although there will only be one winner on the night – in reality every young person taking part is a winner. The skills, knowledge and experience gained are something that will stay with them for life and their aspirations will have increased."
Please come and attend this event as a community member or business, enjoy soup and social time, and vote on your favourite pitch. Contact melanie.thomas@blackburnyz.org to book on.
Ends
Information for Editors
For further editorial information, please contact Melanie Thomas at Blackburn Youth Zone on melanie.thomas@blackburnyz.org or 01254 292000.