Why Volunteer
Volunteering is a great opportunity to learn new skills, find friends with similar interests and gain valuable experience.
At Blackburn Youth Zone we are recruiting a committed core of volunteers to ensure we deliver a world class service to Blackburns Young people. We have a number of volunteering opportunities available, offering a wide range of experience.
Volunteering at Blackburn Youth Zone is your chance to be at the heart of a project that is turning around the aspirations and opportunities for Blackburn and Darwens young people.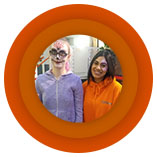 Register Your Interest
Thank you for your interest in volunteering with Blackburn Youth Zone. We are looking for a range of people to volunteer in a variety of roles with the Youth Zone.
To enable you to become an active volunteer as soon as possible, please complete the application form below.
If successful, you will then be invited in for a short interview and be asked to complete DBS check.