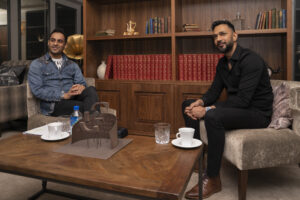 Mohammed Patel, CEO of GM Holding Group was the keynote speaker at a special virtual Patrons Breakfast for Blackburn Youth Zone, hosted by BYZ Board Member and MD of AMS Accountancy Group, Ebrahim Sidat on the 6th November.
Guests were welcomed to the exclusive event by Blackburn Youth Zone Chairman, Rt Hon Jack Straw and was attended by Patrons who provide support towards the £1 million required every year to keep the Youth Zone open; including Fagan & Whalley, Graham and Brown, Cardboard Box Company, Cummins Mellor, Napthens Solicitors, Forbes Solicitors and other Patrons.
Established eight years ago, Blackburn Youth Zone provides a wide range of activities for young people aged 5 to 19 years old. Blackburn Youth Zone is located in the centre of Blackburn. It exists to create a positive future for young people of Blackburn with Darwen, promoting cohesion, skills and aspirations, and health and wellbeing.
Mohammed Patel, CEO of GM Holdings said in his interview:
'Success doesn't change a person, it reveals them. It can be measured in so many ways. It is all about how many people you can make a positive impact on in a right way, it is all about giving back – that is fulfillment and making a difference. He explained the importance of investing in people and integrity is key in being successful in business.
He also spoke to the audience and younger entrepreneurs and explained success doesn't happen in a day and failure doesn't happen in a day, it is decisions you make on a daily basis that can be difficult – you need courage and that will give you the ability to take that step forward.'
Mohammed also explained how important investing in his team at GM Group is, relating Mohammed's investment in its people to the ethos of the Youth Zone, Moh Patel spoke to delegates about his company's approach to having the right culture in his business.
Mohammed's keynote speech was inspirational to all attendees and gave an insight into his life and challenges he has faced and what he has learnt through his journey. The event was concluded by Founder of Blackburn Youth Zone Andrew Graham welcoming new Patron, Fagan & Whalley Ltd to the network, with Stephen Fagan talking about why he is passionate about Blackburn Youth Zone.
Blackburn Youth Zone Board Member Ebrahim Sidat and MD of AMS Accountancy, said:
'Thank you very much for today and to Blackburn Youth Zone for giving us this opportunity. By being a Patron of Blackburn Youth Zone, it helps us make a difference by investing in young people. BYZ is a vital organisation in our community that helps bridge the gap between business and young people.'
For any media enquiries please contact Mel Thomas melanie.thomas@blackburnyz.org