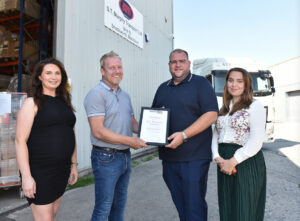 S.T Murphy Transport was founded in 1993 by Shaun Murphy and began with one truck which serviced the packaging and paper mills of Darwen. The company grew gradually over the years, diversifying into multiple sectors with an expanding modern fleet of artics and vans. Following Shaun's son Liam's arrival in 2013, we have experienced exponential growth in both transport and warehousing solutions – dedicated to providing a professional yet personal, tailored service.By joining the Patron network ST Murphy Transport is enabling Youth Zone Darwen to reach more vulnerable young people and families who need us now more than ever.
Youth Zone Darwen is located in the centre of Darwen. It exists to create a positive future for the young people of Darwen, promoting cohesion, skills and aspirations, and health and wellbeing. We support children and young people aged 5 to 19, and up to 21 for young people with a disability. The charity encourages young people to be the best they can be, by providing enriching activities, unique experiences and support services to all. Meaning all young people regardless of their background and circumstance have the support available to meet their full potential.
Support from local businesses and individuals is crucial to the ongoing success of Youth Zone Darwen. In order to provide the support that young people deserve, Youth Zone Darwen needs support from local businesses, known as Patrons.
Wayne Wild, Trustee of Youth Zone Darwen and Blackburn Youth Zone said:
"ST Murphy Transport is an impressive firm with a long local history. Their commitment to serving the community is commendable. They will make a fantastic Patron for the Youth Zone Darwen. On behalf of the whole Youth Zone team, volunteers, members and board, I would like to thank ST Murphy Transport for its support which will be spent improving the lives and prospects of thousands of local youngsters."
Liam Murphy of ST Murphy Transport said:
"We understand the importance of providing the support and development to our younger generation and their needs to thrive and flourish in their aspirations. We are honoured in becoming a proud Patron of Youth Zone Darwen and joining a network of businesses that are wanting to support the need in the town"