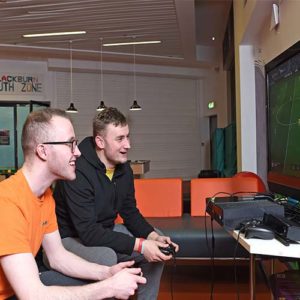 This months volunteer of the month is
Sam!!!
Sam
is a much valued and appreciated addition to the Youth and Senior team. He has become an integral part of the youth team, and has developed good relationships with young people and the staff team. He displays confidence in all areas of his volunteering.
Sam works a full time job but every week he travels over to the youth zone, he is punctual, hardworking and contributes to the team's and young people's positivity. He adapts to any activity and role, from sports, gym, rec and even arts and his passion for giving back always shines through.
Sam has played a huge part in
our Youth Ambassadors program supporting the young people through their session and supporting on a 2 night residential in Kentmere where the young people planned their social integration project with the support of the team.
Volunteers like Sam are crucial to the youth zone, what we do for young people would not be possible without volunteers.
Thank you to Sam for your dedication and everything you do for the young people of Blackburn with Darwen.
If you would like more information on Volunteering email byzvolunteer@blackburnyz.org or call us on 01254 292000.