We are extremely pleased to announce that Reel Cinema has pledged its support to Blackburn Youth Zone by becoming a Gold Patron.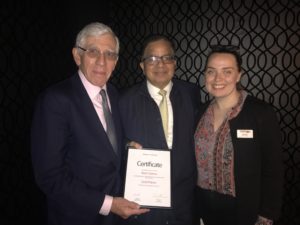 Reel Cinema is a chain of multiplex cinemas based in the United Kingdom. The development of the Blackburn cinema is scheduled to open in Easter 2020 in Blackburn town centre.
Reel Cinema is now one of 40 businesses who support Blackburn Youth Zone. The donation from Reel Cinema will be used to inspire young people to have fun, meet different people, try new things and challenge themselves to be the best they can be.
KC Suri from Reel Cinemas said:
"It is my pleasure to get involved with Blackburn Youth Zone. It's a very worthy cause; Blackburn Youth Zone encourages young people from all backgrounds to participate in activities and utilize their talents to reach their potential"
Rt Hon Jack Straw said:
"We are extremely proud to have Reel Cinema join the Blackburn Youth Zone network; it is really good to have such a prominent figure from the Blackburn business community supporting this valuable cause.
Blackburn Youth Zone is part of OnSide Youth Zone network. We are open 7 days a week for just 50p per session when schools are closed, providing 20 activities per session.
"I am proud to be part of Blackburn Youth Zone as we are the heart of the community, collaborating to create a more cohesive and prosperous Blackburn with Darwen."
Editors Notes:
For more information contact melanie.thomas@blackburnyz.org or call 01254 292000