Praise to Blackburn Youth Zone as they support over 4,000 people through 'ZONE to HOME' campaign over the bank holiday weekend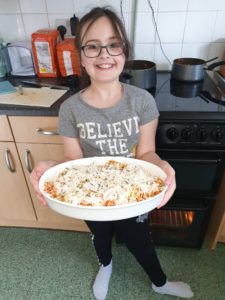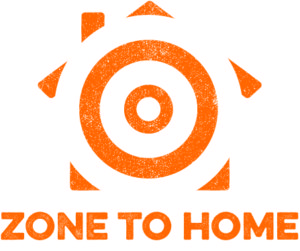 Over the bank holiday weekend Blackburn Youth Zone with support from the local community took on a massive challenge to support just over 4,000 people through their new campaign ZONE TO HOME.
Over 500 homes were visited on Friday 10th April, the Youth Zone team and volunteers embarked on the exciting challenge of supporting members and the wider community through the bank holiday weekend. The parcels contained a meal for a family of 4 and a recipe card which was created by well known TV Personality Chef and resident Executive chef of Northcote, Lisa Goodwin Allen. The recipe gave families the chance to spend time in the kitchen together and to cook a healthy recipe.
The boxes supported young people and families during these unprecedented times. Blackburn Youth Zone also reached out to several community partners including Young People Services, Child Action North West, SEEDS, Food Bank, Healthy Living and Young Careers service.
Praise to Blackburn Youth Zone has been flooding in on social media from parents, carers, community partners and schools highlighting the big impact Blackburn Youth Zone are making.
Parent of a Youth Club member said:
"Thank you so much for our very unexpected parcel today, this actually made me cry, Elliot can't wait to get to Youth Zone."
In addition, Blackburn Youth Zone will continue to provide hot meals to young people and families every day throughout April. This ambitious challenge of not letting any family go hungry over the long bank holiday weekend and throughout April is a result of the Youth Zone having to close its doors recently, following government instructions, and is now only open to children of key workers.
Hannah Allen Chief Executive of Blackburn Youth Zone said:
"We are overwhelmed by the support from the local community who have volunteered their time to help reach young people and their families on the bank holiday friday, through very generous donations and the local business coming we have been able to reach over 4,000 this bank holiday weekend. Blackburn Youth Zone is a fundamental part of our community and right now we are needed more than ever, we are not stopping, with your support we are adapting our services to provide critical support for young people, families and communities of Blackburn with Darwen, and will continue to, whatever it takes.
A special thanks goes to Lisa Allen Goodwin, Wellocks, What More, Cardboard Box Company and Pets Choice who have made the project possible."
Donations are still welcome to support the campaign as Blackburn Youth Zone continues to provide meals; by either donating money via the Virgin Money giving page or by donating ingredients. To donate simply go to Virgin Money giving page or contact Melanie Thomas at Blackburn Youth Zone melanie.thomas@blackburnyz.org to make an alternative donation.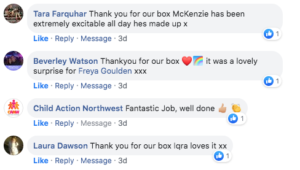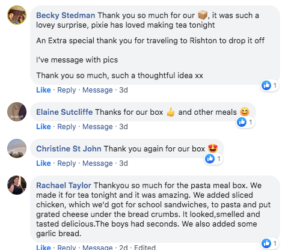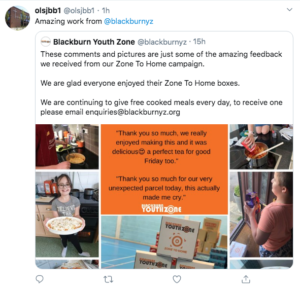 Note to editors:
For full details on all items that can be donated please contact Melanie Thomas Zone melanie.thomas@blackburnyz.org
Blackburn Youth Zone is located in the centre of Blackburn. It exists to create a positive future for young people of Blackburn with Darwen, promoting cohesion, skills and aspirations, and health and wellbeing. They have a growing membership of almost 3,000 young people aged 5-19 and receive up to 1000 visits each week