Pendle Doors Strengthens Commitment to Local Community Through Patronage of Blackburn & Darwen Youth Zone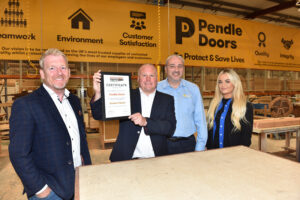 Pendle Doors, a prominent UK door manufacturing company, is thrilled to unveil its latest collaboration with Blackburn & Darwen Youth Zone. This partnership signifies a substantial stride in Pendle Doors' unwavering dedication to positively impacting the lives of young individuals and fostering their ambitions within the Blackburn and Darwen boroughs.
With roots tracing back to the 1950s, Pendle Doors has transformed into a family-operated enterprise renowned for its exceptional product quality, unwavering dependability, and exemplary customer service. The company's strategic move to a cutting-edge 30,000 sq ft manufacturing facility in Blackburn in 2007 paved the way for rapid expansion and innovation.
Blackburn & Darwen Youth Zone is a charity dedicated to young people, that prominently provides over 60 hours of services when schools are closed. With over 4,500 members benefiting, their provision takes place at a state-of-the-art centre in Blackburn, our satellite site in Darwen and within the community, open to ages 5- 19, with a dedicated SEND and Employability services open to young adults up to the age of 25.
Ryan Anderson, Managing Director of Pendle Doors, expressed:
"We are delighted to be part of an inspiring local charity as its Patron. Blackburn & Darwen Youth Zone offers a platform for our young generation to flourish and exceed their aspirations. Investing in our society's youth contributes to shaping a vibrant and prosperous future."
This partnership between Pendle Doors and Blackburn & Darwen Youth Zone exemplifies a shared dedication to the upliftment of the local community. The collaboration not only demonstrates Pendle Doors' commitment to manufacturing excellence but also its earnest desire to contribute positively to the lives of young people within the borough.
Wayne Wild, trustee of Blackburn & Darwen Youth Zone, said:
"We warmly welcome Pendle Doors as a Patron of Blackburn & Darwen Youth Zone. Their commitment to our community will further enable us to provide the highest quality services to our local young people. We have a growing network of businesses who want to give back and ultimately connect with other like-minded business leaders in the area."
For more information on how to become a patron at Blackburn & Darwen Youth Zone, please contact: Mel Thomas melanie.thomas@blackburnyz.org