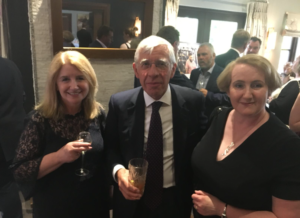 On, Thursday 14th June at Northcote, RT Hon Jack Straw, Chairman of Blackburn Youth Zone hosted 'An Evening With Lisa Allen' to raise vital funds for Blackburn Youth Zone mentoring programme.
Guests from KPMG, Cardboard Box Company, Forbes, Napthens, Blackburn Rovers, 24 laundromat, Jones Melling and many more local businesses attended to fundraise and show their support for Blackburn Youth Zone mentoring programme.
Blackburn Youth Zone mentoring programme, provides one to one support and guidance over a 12 month period, young people on the programme are supported to develop their confidence, social skills, relationships, emotional health and aspirations.
The guests received champagne and canapes on arrival, then Lisa Goodwin-Allen Executive Head Chef at Northcote introduced her seasonal menu followed by Jane Parry from PM+M speaking about her mentoring journey and how becoming a mentor changed a young person's life.
The guest thoroughly enjoyed a delicious four-course meal which was followed by RT Jack Hon speaking about his life as a politician with the guests having the opportunity to ask him questions.
Laura Couch, Fundraising & Events Manager said:
"We have a responsibility to support and nurture the young people of this community. We do so by providing educational programmes, sport, arts, the Duke of Edinburgh programme, STEM Workshops and up to 18 activities per evening. Mentoring provides much needed one to one support for young people who may lack confidence, self esteem or are struggling with their health and wellbeing. With support from a trusted adult, in a fun and safe environment we have seen many young people thrive and without the support from local businesses young people would not be able to access Blackburn Youth Zone for just 50p a visit"
For more information about fundraising for Blackburn Youth Zone please contact Laura Couch, Fundraising and Events Manager for Blackburn Youth Zone on 01254 292000 alternatively email laura.couch@blackburnyz.org