Brand new 'The Marketing Mix' launching on Friday 15th November 8:30am – 10am at Blackburn Youth Zone.
A new forum for East Lancs Marketing Professionals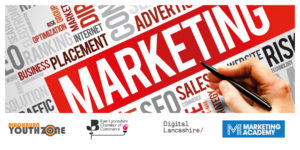 They demanded, we listened. The Marketing Mix was created following demand from the region's professional marketers – they want a forum to meet, share best practice and invest in their careers through continuous learning.
Made possible by East Lancashire Chamber of Commerce in partnership with Blackburn Youth Zone, The Marketing Mix is a group for client and agency-based marketing professionals across East Lancashire to access support and education about the latest from the industry.
This is an opportunity for anyone who works in a marketing role to develop professional relationships, discuss timely topics, and hear from guest speakers and industry experts who'll really aide your understanding of industry stats, new releases and changes in behaviour. This group aims to bring industry-leading speakers for Q&A and panel discussions and will form a valuable part of everyone's CPD.
Supported by presentations from Andy Davies FCIM, founder of regional CIM accredited centre M65 Marketing Academy and Tom Stables, Chair of Digital Lancashire.
The Marketing Mix, November 2019 is a pilot event in anticipation of more regular dates throughout 2020 and beyond. Please show your support by attending on the 15th and telling us what you'd like to hear about. Share with your colleagues and marketing teams, regardless of experience, rank or role.
Jen Hill MCIM of East Lancashire Chamber of Commerce said:
"For a long time there's been a space in Lancashire for marketing professionals to meet, regardless of the industries they work in or the lengths of their careers. Unless a current student or a dedicated reader/researcher, it's difficult for marketers to access regular information to help them make strategic marketing decisions in their daily roles. Hopefully this group challenges that and provides a platform for us all to share recent statistics, findings and hints and tips, network better within our skill set and leave each of these sessions with valuable new knowledge we may not have otherwise had access to."
Mel Thomas of Blackburn Youth Zone said:
"The Marketing Mix group is supported by the M65 Marketing Academy, a regional accredited centre of the CIM and by Digital Lancashire, the voice of digital business in the county.
For more information about the 'Marketing Mix' group please contact Mel Thomas – Blackburn Youth Zone on 01254 292000.