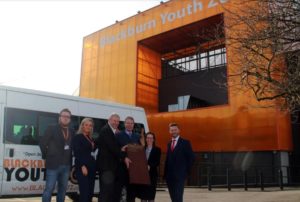 Pictured left to right; Joseph Hildred BYZ Fundraising & Development Manager, Mel Thomas BYZ Fundraising & Communications Coordinator, Richard Mellor Cummins Mellor Chairman, David Hill Napthens Partner, Pamela Richmond Napthens Associate Solicitor and Oliver Mccann Napthens Partner.
Blackburn based Recruitment business Cummins Mellor have officially recognised the latest 'Quiz Quest' winners, Napthens Solicitors, adding their names to the prestigious 'Supporters Cup' honours board which proudly sits in the Youth Zone.
As Patrons for Blackburn Youth Zone, family business Cummins Mellor organise an annual event for the 'Supporters Cup' to raise money for the recently renovated youth hub in the heart of Blackburn.
The latest event held in November 2018, 'BYZ Quiz Quest' saw over 200 people from 52 businesses across Lancashire come together to raise over £20,000 for the 'Get a Job' programme, aimed at supporting young people aged 16 – 24 years, gain the right skills for employment.
The funds raised for the programme have enabled Blackburn Youth Zone to deliver 3 'Get a Job' programmes, resulting in 33% of the participants moving on to gain employment and 50% progressing on to further studies.
Commenting on the Supporters Cup and Cummins Mellor's commitment to raising funds for Blackburn Youth Zone, Chairman Richard Mellor Said; "We're extremely passionate about raising vital funds as well as the profile of Blackburn Youth Zone together with businesses across Lancashire.
Coming together and connecting around such a worthwhile youth provision for our young people is a great collaboration and raising over £45,000 since becoming a patron is testament to what we can achieve when we all work together."
Blackburn Youth Zone is a 21st century youth hub located at the heart of Blackburn, open 7 days a week to young people aged 5 to 25 years old, aiming to change the prospects offered to young people in the area.