Fundraising Event Celebrates £500k Milestone for BNI Vista Group With Blackburn YouthZone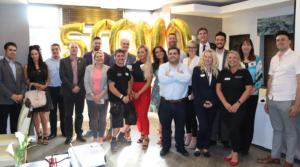 On the 18th July BNI Vista hosted a fundraising evening for Blackburn Youth Zone at The Avenue Hotel, Brockhall Village, to celebrate passing £500K in business since its launch.
The evening started off with live entertainment and canapés, whilst visitors flowed in to support the charity event. Later on in the evening, there was a presentation with Joanne Bury from Burys Solicitors and Colin Taylor from AKORN Financial Advice which informed the visitors the benefits of being in the BNI Vista group and the great difference it can make to your business.
Colin Taylor from AKORN Financial Advice Limited and Vice President of BNI Vista said:
"We proud to support Blackburn YouthZone as our chosen charity, everyone in BNI Vista is committed to grow our Chapter and our own businesses' so we can keep donating to such a fantastic cause. We are supporting YouthZone to help generate the future entrepreneurs of Blackburn and give our youth a safe place to thrive."
BNI Vista, is the Blackburn chapter and meets weekly at Brockhall Village and is part of the world's largest referral marketing organisation.
Established over 30 years ago, BNI has over 240,000 members in over 70 countries worldwide. It works by organising weekly networking meetings for groups of businesses. Each chapter follows proven procedures and processes to ensure members are able to generate the maximum amount of business for each other, therefore helping the community and local economy, as well as companies of all sizes from Blackburn.
Blackburn Youth Zone is BNI Vista's nominated charity and a full-time member of the group, which seeks to support it with fundraising efforts throughout the year.
Mel Thomas from Blackburn Youth Zone said:
"The support from the members of the BNI group is phenomenal, we meet on a weekly basis to support each other and grow each others businesses. The amount of business which is passed between members shows the quality of the referrals, Blackburn Youth Zone is proud to be a member. A big thank you to The Avenue for hosting the event too."
David Grange from The Avenue said:
"We loved to support local charities who do some much good work and with BNI it means local business's can also add real value to the local community and help other business's network and grow and at the Avenue hotel we love to host these and give something back to the local area"