The first four patrons of a new Youth Zone project in Darwen have been revealed.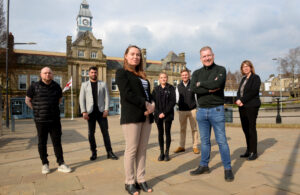 Between them, the businesses have pledged £50,000 to support the Youth Zone Darwen scheme.
It comes after a £250,000 fundraising drive was launched to transform Meeting Places in Darwen town centre into a state-of-the-art facility for the town's young people.
Wayne Wild, Chair of Darwen Town Deal and a Youth Zone Trustee, appealed for businesses to come forward to help raise the money needed to make a successful temporary scheme there permanent.
Now, the first four patrons have been revealed as:
Multevo

Brookhouse Aerospace

Darwen Bars and Leisure

S.T Murphy Transport
Thanking the patrons, Wayne said: "We've been blown away by the response to our appeal and this is a brilliant start with more patrons to be announced very soon.
"I'd like to say a really big thank you to the local companies who have already pledged their support to Youth Zone Darwen, with a special thank you to our first four official patrons.
"Like me, they see this as a chance to create something fantastic in the town – somewhere youngsters can go to socialise and have fun, but also somewhere they can learn new skills and reach their full potential.
"This really is a chance to help change lives."
Three different packages are available to patrons – gold, silver and bronze and the money they pledge will help fund Youth Zone Darwen with sessions also planned for venues including Junction 4 Skatepark, Darwen Library Theatre and AFC Darwen.
Darwen-based Multevo – specialists in delivering award-winning highways, civil engineering, vegetation, arboriculture and traffic management nationwide, is the first Gold Patron.
Josh Sweeney from Multevo said: "We're really proud to be supporting the Youth Zone Darwen project.
"As a company, we're passionate about making a difference and to be able to support this scheme and the young people in our own town is a real privilege.
"We're looking forward to seeing the difference that Youth Zone Darwen can make to youngster's lives.'"
Blackburn with Darwen Council is also supporting Youth Zone alongside the patron scheme – where private businesses, charitable trusts and education providers help fund the offer.
And, talks are well underway for more businesses from across the town and borough to join as patrons.
The model has proven successful elsewhere, including at Blackburn Youth Zone, which is leading this project.
Chief Executive there, Hannah Allen said: "The four new patrons will help make our vision for Youth Zone Darwen a reality – a big thank you to them all.
"Our current youth club in Darwen was launched in response to the pandemic and is so busy we're having to turn some young people away and funding constraints means we can't open every day. The funding they have pledged will help us change this.
"And of course, this is just the start. We're already in talks with more prospective patrons in the town and are really looking forward to welcoming them too.
"We're determined to create a centre that we can all be truly proud of."
To be able to make the service permanent and upgrade the facilities – formerly a nightclub – the project needs individuals and businesses leaders to help raise the £250,000 it will cost to run each year.
Councillor Phil Riley, Blackburn with Darwen Council's Executive Member for Growth and Development and Deputy Chair of Darwen Town Deal, said: "We know that we can achieve so much more when we all work together to make a real difference and I'd like to join Wayne and Hannah in thanking the new patrons for their support.
"The Darwen Town Deal is an once-in-a-lifetime opportunity and the Youth Zone will help inspire our youngsters and equip them with the skills they need to make the most of the opportunities it will help create.
"As a Council, we're really proud to be backing Youth Zone Darwen."
Since the Youth Zone launched, the Youth Hub has supported one young person every day by getting them into employment.
To find out more about Youth Zone Darwen, how to become a Patron or donate, please email: julia.wright@blackburnyz.org
You can also view a weekly timetable of the current activities by visiting: www.blackburnyz.org