Accrol Papers CEO Gareth Jenkins took part in an interactive Q&A Session with Blackburn Youth Zone Vice Chairman, Andrew Graham MBE at the charity's Supporters Lunch on 18th September 2019.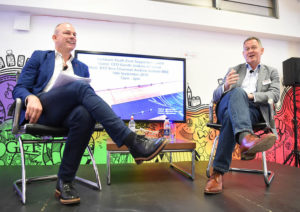 During the masterclass – entitled "Turning around a good business gone wrong" – Gareth Jenkins explained how he joined the business in late 2017 and has led the turnaround of the organization, which remains the leading supplier of private label toilet tissue, kitchen towel and facial tissue to the UK retailers.
Prior to his role at Accrol, he had a 22-year career at DS Smith where, during his last 4 years, he transformed the UK-based business into Europe's most successful and profitable packaging group with a turnover of £600m, employing over 3000 people.
The event was attended by over 100 representatives of companies and individuals who provide support towards the £1.2 million required every year to keep the Youth Zone open; including BAE Systems, Cardboard Box Company, Bowland Charitable Trust, Graham and Brown, Totally Wicked, Crown Paints, Napthens Solicitors, Blackburn College, PM+M Accountants and other supporters.
Blackburn Youth Zone provides a wide range of activities for young people aged 5 to 19 years old. With an entrance fee of just 50p, activities range from sports to arts, craft and games. Facilities include a canteen, basketball courts, roof-top football pitch, climbing walls, dance studio, fully-equipped gym, live music room, electronic music room and a gaming room.
Following an interview by Andrew Graham MBE, Gareth Jenkins fielded questions from the room, which included business students from Stonyhurst and Westholme schools.
When asked for any advice for young people considering a future career in business, he said: "Find something that you love because you are going to spend a lot of time doing it. If you do something you love you will naturally excel."
Andrew Graham MBE Vice Chairman of Blackburn Youth Zone said:
"Gareth's down to earth, straight forward business advice was extremely stimulating, whether you are a student of business or part of a management team, it was incredibly relevant. It's wonderful that BYZ can not only support the development of young people but also help business leaders get better. We need the ongoing support of all businesses in Blackburn and Darwen to continue to build a legacy of aspiration, cohesion and health and wellbeing for the young people in our community."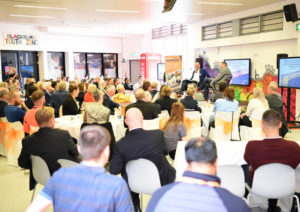 Ends
Information for Editors
For further editorial information, please contact Melanie Thomas at Blackburn Youth Zone on melanie.thomas@blackburnyz.org or 01254 292000.