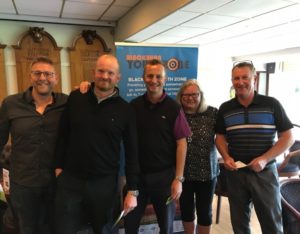 There were lots of winners at the Trevor Dawson Charity Golf Day. The sun came out the moment the claxon sounded and a full field of 21 corporate teams enjoyed the immaculate course conditions of Clitheroe Golf Club for the Trevor Dawson Charity Golf Day.
Word has just come in that the charity golf day raised £6,500 for the magnificent Blackburn Youth Zone, which brings the total raised over the years to over £26,000. The Trevor Dawson event raised £5,500 with Jon Alder from Barclays Corporate kindly funding a further £1,000.
Blackburn Youth Zone is a state of the art facility in the heart of Blackburn, which provides opportunities for the whole community to support the town's young people. It is a landmark facility of world-class standard that is part of the regeneration of the town. Trevor Dawson, Chartered Surveyors, who have offices in Blackburn, Burnley and Bolton, staged their fifth Golf Day in support of this local charity. The guests were moved by a wonderful speech given by a Youth Zone member who has achieved great confidence and a new job within the organization.
Laura Couch, Events and Enterprise Manager at Blackburn Youth Zone said, "The support from the Trevor Dawson team is phenomenal, without the support from local businesses fundraising, young people would not be able to access Blackburn Youth Zone seven days a week for just 50p a visit."
The Golf Day comprised 21 teams teeing off together at 12.00 p.m. in a shotgun start after enjoying coffee and bacon butties on arrival. The competition was a four ball Am – Am with a relaxed format of two scores to count. The overall winners, with a score of 88 points, were Yorkshire Bank, followed by Ludlow Wealth Management in second place with 87, with Pendle Projects claiming third place with 86. The day culminated with a dinner and prize presentation, with drinks on the patio in the sunshine overlooking the 18th green.
Caroline James, Managing Director of Trevor Dawson comments, "We are delighted to support Blackburn Youth Zone again and spend time with our clients on such a relaxed and enjoyable occasion. We look forward to staging the day again next year."
Laura of the Blackburn Youth Zone concurs, "Thank you Trevor Dawson for a wonderful day. The money raised will be used to make sure we can continue to offer world class sports and arts facilities to young people, 365 days a year for just 50p per visit."