BYZ Patrons employees go above and beyond for young people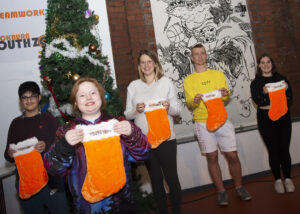 Over Christmas and the New Year with the support of local businesses, Blackburn Youth Zone provided 1200 health and wellbeing stockings to local young people, these went out to partner youth organisations, women's refuges, homeless shelters, schools and BYZ members. The stockings were packed with items that will support young people with their emotional health and wellbeing over the Christmas period.
Christmas time has been a tricky time for some young people and with the full impact of the crisis on young people's health and wellbeing still emerging we felt it was really important to support in some way.
Thank you to BYZ Patrons Granby Marketing who normally gives all of their colleagues a £50 voucher for Christmas, this year the employees were given the option of having the voucher or donating it to Blackburn Youth Zone. Between them, they have donated £1060 of their own Christmas bonuses to support the stockings.
"It is absolutely brilliant to see that the Granby team have considered people that are less fortunate themselves and donated their gift from the leadership team to BYZ, I was astounded by the generosity of the team but not entirely surprised as they are a great bunch of individuals who treat each other with respect and acknowledge how difficult of a year it has been. BYZ are amazing, we are proud to be patrons and look forward to providing our on-going support in 2021"
Joanne Kimber – Managing Director, Granby Marketing Services
"We really appreciate the support that local businesses have given young people over the festive period, it is really important that we continue to provide a vital service across the borough for young people but we would not be able to do this without Blackburn Youth Zone Patrons and local businesses."
Mel Thomas – Blackburn Youth Zone