Blackburn Youth Zone is proud to announce Canopies UK has joined the Youth Zone's Patron Network.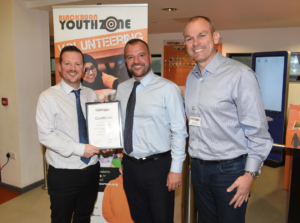 Canopies UK is a Darwen based family business, specialising in canopies for homes, schools and commercial properties, spanning industries from education to hospitality. The business is owned and run by brothers Jason and Jon Eastwood and they employ 50 people.
Andrew Graham MBE, the CEO of Graham & Brown and Vice Chairman of Blackburn Youth Zone, said:
"Straight away it was clear to see Canopies UK genuinely care about our community. It's a family run business and they are obviously committed to their workforce and their families – we share a lot of the same values. So we were naturally delighted when Jason and the team decided to get involved. I am looking forward to watching the partnership develop over the next few years and I know Canopies UK will make a great patron. I'd like to say a very big thank you on behalf of the BYZ Board and the wider BYZ team."
Jason Eastwood from Canopies UK said:
"We're delighted to have become a patron for such a worthwhile community cause. Not only are we a business with strong local roots, we're a family business that's committed to making a positive difference within our local community. This includes helping provide the next generation with opportunities to develop and thrive and achieve whatever they set their sights achieving, thanks to Blackburn Youth Zone. It's an honour to have become a patron and we're looking forward to really relishing this opportunity to make a difference to young local people's prospects and lives."
Blackburn Youth Zone provides a wide range of activities for young people aged 5 to 19 years old and has had an impact on the lives of 13,029 young people across Blackburn with Darwen with a total of 260,555 visits to BYZ. 34% of BYZ membership is from the BME community with a 65% increase in young people from a BME background attending BYZ since 2012. With an entrance fee of just 50 pence BYZ exists to create a positive future for young people of Blackburn with Darwen, promoting cohesion, skills & aspirations, and health & wellbeing. The youth zone has a growing membership of almost 3,000 young people aged 5-19 (up to 25 with disabilities) and receives up to 900 visits each week.
Support from local businesses and individuals is crucial to the ongoing success of Blackburn Youth Zone. In order to provide the support that young people deserve, Blackburn Youth Zone needs to raise a minimum of £1million every year – 75% of this comes from fundraising, including support from local businesses.