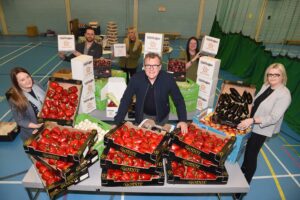 Michelin-star Chef Nigel Haworth and proud patrons visit Blackburn Youth Zone to helps pack ingredients to feed families this Easter.
This Bank Holiday weekend, Blackburn Youth Zone with support of their patrons will deliver 500 food parcels to families across the town. This year the charity's campaign has received the backing of Michelin-star Chef Nigel Haworth, who agreed to design an exclusive recipe for families to enjoy together. Each food parcel will contain all the ingredients to make Nigel's two-course meal for their family.
Michelin-star Chef Nigel Haworth said:
"It's such a privilege to help bring tasty food to Blackburn Youth Zone members' homes across the region through this amazing project. Having designed new recipes for our latest project, Haworth @ Home, we are delighted to share our love of food further through the Zone to Home campaign where I'll be sharing my secret step-by-step instructions to make a delicious Aubergine Chill and an Apple Crumble for dessert. Through this project, I hope we can encourage families of all ages to work together to create the dishes. I can't wait to see how they turn out!'
Zaffer Khan Interim CEO of Blackburn Youth Zone said:
"This past year has been incredibly difficult for many families across our town. I am extremely proud that we have supported the community, delivering food parcels ready for families to make a healthy nutritious meal together this Easter. I would like to thank our amazing community and fantastic patrons who have supported our 'Zone to Home' campaign and continue to think of others, during such uncertain times.
For more information about the campaign please visit:
https://uk.virginmoneygiving.com/charity-web/charity/displayCharityCampaignPage.action?charityCampaignUrl=ZonetoHome2021