BLACKBURN YOUTH ZONE JOINS CHRISTMAS CHALLENGE AIMING TO DOUBLE SUPPORTERS' GIFTS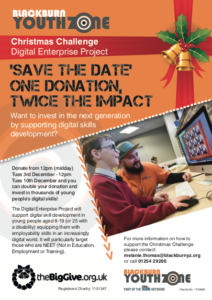 Local charity Blackburn Youth Zone is gearing up to double supporters' Christmas donations by taking part in the UK's biggest match funding campaign, The Big Give's Christmas Challenge 2019.
Now in its 12th year, The Christmas Challenge launches at midday on 3rd December (Giving Tuesday) and runs for just seven days, until 10th December 2019. Throughout the week, participating charities will see supporters' donations matched (up to £50,000 per organization), doubling the impact of their gifts.
Based in its iconic orange building just off Cathedral Square, Blackburn Youth Zone provides a wide range of activities for young people aged 5 to 19 years old, or up to 25 with a disability. With an entrance fee of just 50p, facilities include a canteen, basketball courts, covered football pitch, climbing walls, dance studio, fully-equipped gym, live music room, recording studio and a gaming room.
Jonathan Frank, Director of The Big Give, adds:
"The Christmas Challenge is a great opportunity for the British public to maximise the impact of their charitable gifts. Launching on Giving Tuesday, we're encouraging everyone to consider the causes closest to their heart and to donate, enabling us to help ensure those donations go even further."
Blackburn Youth Zone is taking part in the Christmas Challenge 2019, aiming to raise income and secure vital funding for charitable services for 2020 and beyond.
The Big Give matches donations through partnerships with over 20 funding Champions, including Reed Foundation, The Childhood Trust, Four Acre Trust and the National Lottery Heritage Fund.
To find out more about The Big Give or how to donate, watch our 30-second video or visit: https://bit.ly/2KKdvls