Blackburn Youth Zone event is 'Wonderful Electric'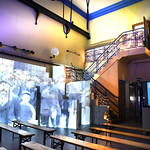 Blackburn Youth Zone has revealed an exciting creative collaboration with celebrated artist Jamie Holman and curator Alex Zawadzki.
The talented pair, working together as Uncultured Creatives, have been invited to be part of the top team driving forward the Youth Zone's ambitious £3m plans for the Fuse Box building.
It's one of four projects across Blackburn with Darwen which successfully secured more than £8m through the Government's Youth Investment Fund this summer.
And, at an event last night packed with community and business leaders, the pair wowed with their early visions for a new National Lottery Heritage bid linked to the scheme.
The concepts have been developed with youngsters from the Youth Zone who have been exploring AI technology to create art as well as visiting museums and art installations to help inspire their ideas.
Speaking in front of the packed crowd, Jamie said: "As artists, we like to tell the stories of people and of places, and what a place the Fuse Box is.
"Incredible things have happened here – in fact, it's here where the switch was thrown to light Blackburn for the very first time back when it was the town's electricity works.
"Fascinatingly, the current that started here all those years ago is still live today, it can't be switched off and I think there's something in that with this new project – it's about young people finding their creative spark.
"Working with them to see how this space can be reimagined is really exciting – they are the agents of change and they will design the work that we do, which is a fantastic opportunity all round."
The heritage building – which dates back to the 1800s – sits within the modern Youth Zone building, but is currently unused.
One of the early ideas that Jamie and Alex presented was to re-work the damaged 'Electricity Works' sign on the rear of the building with inspiration taken from a stained glass window at Blackburn college's iconic Victoria Building which celebrates the start of the use of electricity in the town.
After listening to Jamie and Alex's captivating presentation – including a live performance by poet Jenny Reid, founder of the Youth Zone, Andrew Graham MBE,
said: "What you have shown us tonight is quite simply amazing.
"Your collaborative approach to this project reminds me of just how we started out more than 12 years ago – albeit you have taken it to a whole new level.
"Back then, we had no money and no building, but we had a dream.
"I got on my bike and pedalled around the town and what struck me was the deep underlying pride for this part of the world.
"That pride has fuelled the strong foundations for the Youth Zone and the success we have today, and yet this is still only the start – this is an incredibly exciting time.
"In the last year, we have double the number of patrons we have supporting Blackburn and Darwen Youth Zone and we have secured this new funding from the Youth Investment Fund.
"This project with Uncultured Creatives is about doing something really special but having fun with it along the way. It's brilliant, it's creative and our young people are at the very heart of it."
Chair of the Youth Zone, the Rt. Hon. Jack Straw welcomed guests to the 'Wonderful Electric' event within the Fuse Box building alongside Chief Executive, Hannah Allen who was commended for being 'brave' in commissioning the new collaboration.
They outlined their ambitions for the space – set out in a new planning application submitted this week – which would see it develop it into a new Employment Skills Hub – supporting young people into work and helping them fulfil their potential.
There'll also be a new Maker Zone, sector-based youth club and an open events space for showcasing young talents. Plus a fitness suite, social spaces and hi-tech multi-use games area for activities like skateboarding and BMX riding.
Also joining them as a key speaker was Chief Executive of Blackburn with Darwen Borough Council, Denise Park, who described how the four new projects will be 'truly transformational' in giving young people in the borough opportunities to fulfil their potential – a key priority for the local authority.
Denise said that impressively, Blackburn with Darwen had been awarded the most amount of funding through the August round of the Youth Investment Fund.
She put the success down to strong partnership working right across the borough, something she said is a key strength.
For all the latest update on the scheme and to find out more about the Youth Zone and how to become a patron at:
www.blackburnyz.org
And, read more about Blackburn-based Uncultured Creatives and their projects at:
www.jamieholman.com/uncultured-creatives