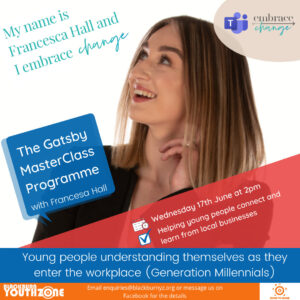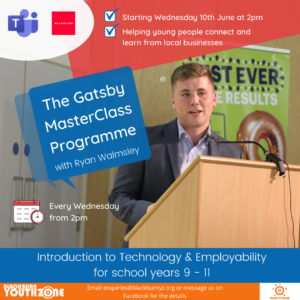 Through COVID -19 Blackburn Youth Zone have worked with their 70 strong network of Patrons and Supporters to a new online carers platform. The careers service showcases inspirational business leaders who share their career journeys, share how they have overcome challenges, and give practical tips. Blackburn Youth Zone shares the belief that young people should be given opportunities to reach their potential. As well as raising aspirations of the next generation of young people across the borough, they also want to support local schools to meet reach their Gatsby benchmark.
The project connects the local business community and young people, helping young people recieve industry lead advice, knowledge and insight as they prepare for the next stages of education, traineeship or work through online masterclasses. So far the two sessions that have been delivered by BAE Systems, which was an introduction to Employability and Technology and the second one was delivered by Francesca Hall who delivered a class on 'empowering the future workforce' so far over 70 young people and 11 schools have engaged in the classes.
Working in partnership with local schools and connecting them with local businesses is important to continue to help raise hope and aspiration for young people of the Borough in Blackburn with Darwen. Bwd NEET rates for those aged 16-17 is at 6.1%, higher than the England average (Blackburn with Darwen Adolescent Strategy, 2019-2023), which is why connecting young people and the business community is so important.
Leon Crosby, Head of Operations at Blackburn Youth Zone said:
"We believe that Blackburn Youth Zone is in a unique position with a fantastic network comprising an array of local businesses. Our organisationis a catalyst to bridge the gap between the business community and the young people of the Borough. The fast-changing world of work puts an ever-greater demand on all of us to support young people in making well-informed decisions and successful transitions, providing them with career opportunities that are right for them. This is why the masterclasses are vital during this crisis. "
Mr Cocker, Headteacher from Pleckgate School said:
"Just wanted feedback that our young people really enjoyed yesterday's master class. They are high quality and of value to our students. More students have expressed an interest in the other masterclasses as a result. Look forward to receiving the video"
Blackburn Youth Zone masterclasses are every Wednesday 2pm – 3pm, for more information please contact leon.crosby@blackburnyz.org