Blackburn with Darwen Youth Zone thanked their patrons for the huge impact they're helping make at a recent Supper Club event.
Hosted by Trustees Wayne Wild and Andrew Graham MBE, the Supper Club at Mytton Fold served as a platform for connecting business leaders within the Youth Zone's successful patron network.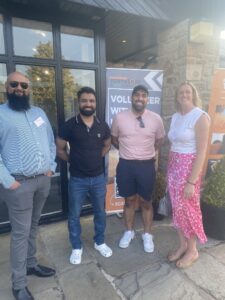 Without the support of the Blackburn & Darwen business community, Blackburn & Darwen Youth Zone would not be able to open its doors to its 4,000 members. The Supper Club event, sponsored by The Senator Group and hosted at Mytton Fold, was a chance to thank the patrons for their support while also demonstrating the significant impact their contributions have made in transforming and supporting the lives of young people across Blackburn and Darwen.
Mytton Fold is proud to be the partner venue for Blackburn & Darwen Youth Zone, providing an essential space for patrons to meet, network and continue to grow in supporting and highlighting the fundamental work that goes on across Blackburn & Darwen, thanks to the initiative.
Wayne Wild said:
"We are proud of our growing patron network, which currently consists of 61 esteemed members. The Supper Club serves as the premier local networking event, bringing together like-minded individuals who share our vision of empowering local young people. By collaborating, we can make a significant impact on the lives of young people in the community."
Blackburn & Darwen Youth Zone operates seven days a week, offering a wide range of activities each evening, catering to the interests of young people in the area.
Whether at their purpose-built facility at Blackburn Youth Zone or their space in Darwen, the organisation aims to be a comprehensive 'one-stop shop for young people.'
Blackburn & Darwen Youth Zone delivers:
Universal services: Providing young people aged 5 to 21 with a safe space, engaging activities, and access to supportive individuals.
Targeted services: Offering specialized support to young people aged 8 to 25 facing various vulnerabilities, helping them overcome barriers and reach their full potential.
Aspirations, Skills, and Employment Services: Focused on building a skilled workforce, providing tailored support in training, education, and employment to young individuals.
To become a Blackburn & Darwen Youth Zone patron, please contact melanie.thomas@blackburnyz.org
Editors notes:
Mytton Fold
Mytton Fold Hotel is not only a renowned wedding venue, restaurant and hotel including 35 contemporary bedrooms and 2 luxury suites, but it is also the perfect space for conferences and business meetings, with a capacity of 250 guests in the largest corporate setting. With a full range of packages on offer, Mytton Fold Hotel is the ultimate choice, where business meets comfort.