Blackburn Youth Zone is taking part in the Big Give Christmas Challenge 2018 – the UK's largest match funding campaign.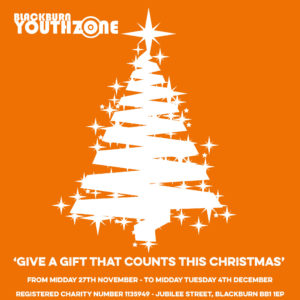 Any donations made between midday 27th November and midday Tuesday 4th December will be doubled at no extra cost to you.
What will your donation go towards?
All donations will go towards our 'Blackburn in Action' project, which will provide opportunities for young people and the wider community to participate in community projects that support confidence, self-esteem, social skills and improve engagement in education, employment or volunteering.
We are aiming to raise £20,000 in order to fully fund this project.
What happens during the Christmas Challenge?
Please donate on this page (click the link below)
https://secure.thebiggive.org.uk/project/26953
In order for donations to be doubled, they must be made online after 12 pm, Tuesday 27th November and before 12 pm, Tuesday 4th December. Donations between £5 and £5,000 will be doubled.
Please note you must not pre-fill your details prior to 12 pm. A clear message will be displayed to indicate when the Challenge has started and when your donation will be doubled.
You can read more about how to donate in the Christmas Challenge here.
If you have any questions, don't hesitate to get in touch with us on 01254 292000.