Ethical Lender, Cubefunder based in Windsor, commits to supporting Blackburn and Darwen Young people
Cubefunder is a leading UK-based ethical alternative lender, providing flexible business loans to small and medium-sized enterprises. Founded in 2017, Cubefunder has helped businesses across a wide range of industries secure the funding they need to grow and succeed.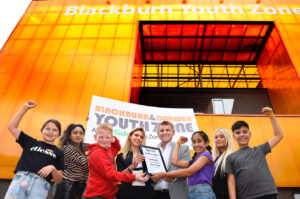 Gary Miller-Cheevers, founder and CEO of Cubefunder, said:
"At Cubefunder, our Mission is to assist our customers in turning their ambitions into reality and plans into action by supporting them financially. This is central to our belief that ambition and plans need money to get them off the ground.
I can think of no finer place to start than with our young people. Our desire, by becoming a Silver Patron of Blackburn & Darwen Youth Zone, is that we inspire the next generation to achieve their full potential by supporting their ambitions and helping bring their life plans into action."
Blackburn & Darwen Youth Zone offer a wide range of activities and exciting opportunities for children and young people aged 8 to 19, (up to 25 for those with disabilities.) With over 4,000 members, the charity seeks to raise aspirations and develop life skills to enable young people to have rich and rewarding lives.
Over the past year alone, their 2 centres have been visited by 1,200 young people each and every week. Forty-four per cent of Youth Zone members come from some of the most deprived areas of the borough, highlighting the crucial role the charity plays in supporting vulnerable young people.
Hannah Allen, Chief Executive of Blackburn & Darwen Youth Zone, said:
"I am delighted to welcome Cubefunder as a new Blackburn & Darwen Youth Zone Silver Patron. Their Mission to turn ambitions and plans into reality is what we try to do every day. It is wonderful to have such a committed organisation with us on this journey, full of energetic people with a clear passion for doing special things within communities."
To discuss becoming a Patron of Blackburn & Darwen Youth Zone and joining this incredible business network, please contact Mel Thomas at: melanie.thomas@blackburnyz.org or on 01254 292000
For more information about the charity, please visit our website at www.blackburnyz.org