Facilities for young people across Blackburn with Darwen are set to be transformed with £8m of new funding.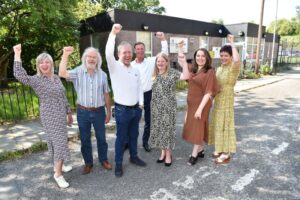 The money has been successfully secured through the Government's Youth Investment Fund (YIF) and will pave the way for four major projects across the borough, including:
Darwen Youth Centre (£3.3m) – building on the success of the existing Darwen Youth Centre and Youth Zone Darwen, the Knott Street facility will double in size as part of plans to add an extra level onto the existing building. The redevelopment will boast a new wellbeing area, creative workshop space, recording and DJ studio, gaming zone and multi-use spaces, and the outdoor sports facilities will be upgraded too.
Blackburn Youth Zone (£2.9m) – a brand new employment and skills hub will be developed by expanding the Youth Zone offer into the unused Fuse Box building. It'll build on the Youth Zone's huge success with employability and ensuring youngsters are work ready through strong links with businesses across the area.
Audley and Queen's Park Children's Centre (£1m) – part of the Council's Children's Centre and Family Hubs review, the existing facilities will be transformed for children and young people living in the area. The new youth centre there will be run by a local youth organisation IMO. The centre will be open seven days a week for them to enjoy with a specialist mental health offer, employability and rehabilitation support too.
Shadsworth Hub (£800,000) – the new youth hub – opposite the local park – will be open to all youngsters in the area, offering impressive new indoor and outdoor spaces for them to enjoy.
Welcoming the news, Councillor Phil Riley, Leader of Blackburn with Darwen Council, said:
This is a brilliant outcome for our youngsters in the borough and comes on the back of an incredible amount of hard work by the Council and our partners.

This funding will see our youth facilities transformed – supporting our mission to ensure every child and young person has opportunities to fulfil their potential.

It also adds to the £40m the Council has already successfully secured through the Levelling-Up Fund in the last few months.

This paves the way for a new skills and education campus of national significance in Blackburn town centre – again benefitting our young people – and improvements to J5 of the M65 and transport links in that area to help support our £1bn vision for the future.
Blackburn with Darwen Council has helped to develop a strong partnership across the borough, called the Strategic Youth Alliance with 10 local organisations who are working together to deliver a wide range of services for children and young people to help them have the best opportunities possible to fulfil their potential.
One of the local partners, Blackburn & Darwen Youth Zone has more than 4,000 members and offers over 60 hours of provision, seven days per week across the borough.
Half of its running costs each year are financed by local businesses, known as patrons. The Blackburn and Darwen Patron network believes in civic responsibility – helping Blackburn & Darwen Youth Zone open its doors while also volunteering their time and helping young people gain employment.
Celebrating securing almost £3m for the new Fuse Box scheme, Blackburn and Darwen Youth Zone Chief Executive, Hannah Allen said:
We are delighted to finally be refurbishing the Fuse Box; located towards the rear of Blackburn & Darwen Youth Zone. Currently it's an unused and undeveloped space covering approximately 3,500 square metres.

Initially opened in 1818 as Blackburn's first electricity power station, this area will become our Employment Skills Hub – The Fuse Box.

In this dedicated space, we can empower young people and industry to come together to address identified skills gaps, supporting young people to acquire new skills to meet demand and access a range of employment opportunities to improve the economic wellbeing of the young people of Blackburn with Darwen.

The Fuse Box is an important heritage project for the town and we are excited to hear and re-tell the stories of the past and form new stories – giving young people the space and opportunity to find their spark.
Together Housing Group is investing almost £20m in an ambitious plan to improve community facilities, outdoor spaces and homes in the Shadsworth area.
As part of the Group, Newground Together's new youth hub is central to the plans for the area.
Director of Newground Together, Nic McGrath, added:
We're delighted to secure this funding and the opportunity to respond to the need for young people to have access to youth facilities in the community where they live.

We're excited to start working with young people in Shadsworth to create a space they can call their own and develop a range of positive activities and opportunities.

This enables us to fulfil our ambition to invest in young people and their community, alongside the wider development planned for the neighbourhood.
The bids support Blackburn with Darwen Council's ambitious £1bn vision for the future with a mission to create a more prosperous borough where no-one is left behind.