Blackburn Youth Zone Patrons learn lessons in risk-taking and resilience from Majid Hussain MBE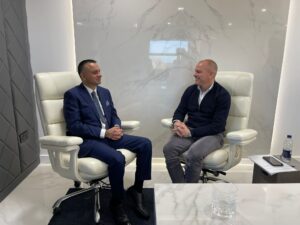 Patrons of young people's charity Blackburn Youth Zone (BYZ) heard from an award-winning business leader about the art of risk-taking and resilience.
The Youth Zone, which offers vital services to young people aged five to 21, invited supporters to listen to Majid Hussain MBE, former owner of Blackburn-based Accrol Papers, during a breakfast event.
Hosted by BYZ founder Andrew Graham MBE, chief executive of Graham and Brown, the virtual meeting brought together BYZ Patrons to network and discuss the charity's current activities. The event was attended by businesses such as; Pets Choice, Cardboard Box Company, BAE Systems, Accrol Papers, Blackburn Chemicals, Totally Wicked and many more.
Taking the spotlight, Mr Hussain shared the story of his journey to business success and took part in an audience question and answer session.
A law graduate and former barrister, he became chief executive of the family business in 2010 and was responsible for increasing turnover from £13m to over £130m. He also took the company, a BYZ patron, from family ownership to a successful listing on the London Stock Exchange in 2016.
Mr Hussain is now chief executive of asset management consultancy Nisiac and oversees the company's charitable donations.
He said: "COVID-19 has impacted every organisation across all sectors, demanding resilience from all of us. For businesses, there has to come a time to take a leap of faith and take the risk – you have to be resilient and not give up.
"It was a pleasure to join the BYZ's patrons' breakfast event and I felt honoured to speak to so many businesses that are continuing to contribute so much to the region through supporting charities like BYZ."
Hannah Allen, chief Executive of BYZ, was delighted to have welcomed Mr Hussain to share his story.
The Youth Zone, on Jubilee Street, Blackburn, was recently named in the prestigious 2021 Reinvention and Resilience Top 50 Report by Forbes Solicitors for reinventing itself during the pandemic.
Hannah said: "It was fantastic to have Majid Hussain MBE join us at our Patrons' Breakfast to share his inspirational life and journey to success. Thank you also to our founder, Andrew Graham, for hosting such a great event.
"We have great relationships with our business supporters and we regularly look for ways to thank them for their support and add value. If anyone would be interested in finding out more about becoming a BYZ patron, then please don't hesitate to get in touch."