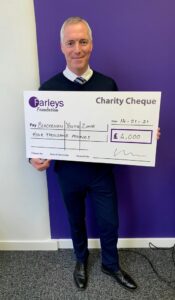 Established in Blackburn in 1958, the full-service law firm has evolved from its beginnings on Richmond Terrace in Blackburn to a presence of six offices across the North West to meet the demand for legal services in the region for individuals and businesses. However, despite their continued growth, Farleys remains at its heart, a local firm for local people and businesses.
Farleys have always been strong supporters of Blackburn Youth Zone since it first opened in 2012, donating time and vital funds aiming to change the prospects offered to young people in the area.
The latest donation from Farleys is £2,000 from the firm's charitable foundation, the Farleys Foundation, they donated towards a particular project at Blackburn Youth Zone which was – Time to Talk. The £2,000 donation got doubled through a campaign.
The "Time to Talk" project will support young people aged 5 – 18 over the next 12 months, responding to young people's individual needs/priorities and will particularly target those disproportionately affected by the pandemic.
Mel Thomas, Blackburn Youth Zone said:
"We are delighted that Farleys Solicitors have donated to the Time to Talk campaign, they have always been dedicated supporters of Blackburn Youth Zone and make a significant contribution to investing in the next generation, we look forward to continuing our partnership – thank you."
Ian Liddle, Partner at Farleys commented:
"As long standing supporters of Blackburn Youth Zone, we are delighted to take this to the next step with joining the patron network and working closer with the team to find ways of helping young people in the area. We are also proud to be able to contribute to the Time to Talk campaign through our Foundation, a vital project to support those in need through the current times.'