Youth Zone Darwen 'cleans up' with brand new patron
Youth Zone Darwen has revealed its 14th patron – Symclean Industrial Ltd.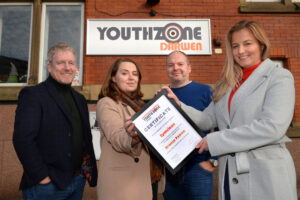 The successful Darwen-based commercial cleaning firm operates right across the UK offering services to a wide range of sectors.
Owners Tanya and Gary Targett have now pledged to support Youth Zone Darwen and the incredible work it's doing with youngsters in the town – taking the total raised in the first two years close to £500,000!
Tanya, who launched Symclean in 2014, said: "We were lucky to hear about Youth Zone Darwen and the difference it's making to young people's lives in the town and we were absolutely blown away.
"The Youth Zone gives them a safe place to go, a place where they can learn valuable life skills and, for some, it offers them real hope and a chance in life.
"Symclean is proud to be the new patron of the charity and we're really looking forward to helping make a difference too."
Symclean employs more than 50 staff with a head office in Commercial Road.
Both Tanya and Gary are proud Darreners and said they wanted to help give something back to the town.
Wayne Wild, Trustee of Youth Zone Darwen and Chair of the Darwen Town Deal, said: "We're really pleased to be announcing Symclean as our 14th Youth Zone Darwen patron and with more to come very soon too.
"Like me, our patrons all see the amazing value in what Youth Zone Darwen is doing in helping to change lives and they want to help play their part too.
"This is community spirit at it's very best – Darwen people and businesses coming together to make a real difference and as Chair of the Town Deal and Trustee for Youth Zone Darwen it's incredible to see.
"Without the unwavering support of our patrons, including Symclean, none of this would be possible – we now have a permanent facility in the town which is open longer and helping more young people.
"It's fantastic and I'd like to thank everyone who has helped make it possible!"
Just last year, Youth Zone Darwen received £100,000 from the John Lewis Foundation Trust through patrons Herbert Parkinson.
The money will be used to help create 75 new jobs for young people across the town.
And, Youth Zone Darwen is now in the running for a Red Rose Award – celebrating the impact it has had in its first two years.
Chief Executive of Blackburn Youth Zone and Youth Zone Darwen, Hannah Allen said: "Our Youth Zones rely on donations and grants to be able to operate and offer the very best opportunities for our young people.
"It's brilliant that we are welcoming Symclean as our 14th patron at Youth Zone Darwen with more businesses coming forward too.
"I'm incredibly lucky to see first-hand what a difference the Youth Zones are making every single day and that is why the support of our dedicated trustees and patrons is so important."
The full list of Youth Zone Darwen patrons includes:
Herbert Parkinson Ltd
Multevo Ltd
Watson Ramsbottom Ltd
SUEZ Recycling & Recovery Ltd
WEC Group
Crown Paints
Brookhouse Aerospace Ltd
Kay Group
Vampire Vape
Darwen Bars and Leisure Ltd
S Murphy Ltd
Liberty Flights Ltd
The Cardboardbox Company
Symclean Industrial Ltd
Already, there's been more than 17,000 visits to Youth Zone Darwen since the doors first opened with more than 6,000 different activities delivered.
To find out more about Youth Zone Darwen and what's on, please click here.
To find out more about becoming a patron, please email: melanie.thomas@blackburnyz.org