Mergon UK Ltd, has become the latest 'Patron' of Blackburn Youth Zone, a youth charity raising aspirations and changing lives of thousands of young people.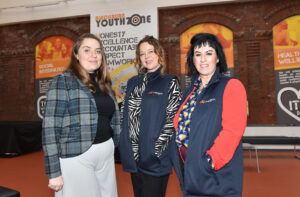 Mergon UK Ltd who are a manufacturing business based in Blackburn, has evolved to become one of Europe's leading providers of specialist blow moulding services, placing a valuable source of design and manufacturing expertise at the disposal of the organisation; they manufacture technical parts in many diverse sectors, in all shapes and sizes.
From a single plant in Ireland established over 40 years ago, Mergon UK Ltd now has operations in Ireland, UK, South Carolina, Czech Republic, Mexico and China. Founded in 1981 by Pat Beirne, a plastics engineer, the company has expanded from a handful of machines and employees to a leading international manufacturer employing 1,100 people across the globe.
Blackburn Youth Zone supports children and young people aged 5 to 19, and up to 21 for young through their Youth Hub. The charity encourages young people to the best they can be, by providing enriching activities, unique experiences and support services to all. Meaning all young people regardless of their background and circumstance, have the support available to meet their full potential.
The Youth Zone features flexible activity areas over three floors, designed to provide an extensive range of sporting, artistic, cultural, physical, and recreational activities and opportunities that young people would not get elsewhere.
The Youth Zone simply would not exist without the support of local businesses supporting them. .
Hannah Allen, Blackburn & Darwen Youth Zone CEO said:
"Mergon UK Ltd will make a tremendous Patron for Blackburn & Darwen Youth Zone. On behalf of the whole Youth Zone team, volunteers, members, and board, I would like to thank Mergon UK Ltd for its support which will enable us to help improve the lives of thousands of local young people."
Paul Wareing, Managing Director, Mergon UK Ltd said:
"We're delighted to have become a patron of such an inspiring local charity. We are thrilled to be part of such a wonderful organisation helping provide platforms for our younger generation to succeed and excel in what they can aspire to be"