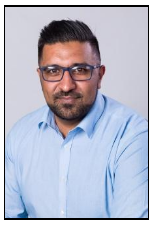 We are very pleased to announce that Raz Mohammed has joined Blackburn Youth Zone as our interim Chief Executive, taking over the reins from Hannah Allen officially on 1st June.
Raz has extensive experience of successfully working in some of the most challenging, deprived and segregated wards and towns in England including Dewsbury, Heckmondwike, Batley, Huddersfield and Oldham. His experience ranges from attending youth clubs himself as a teenager to working directly with young people and communities to leading teams and developing new services. More recently Raz has held various roles at Mahdlo (Oldham) Youth Zone where he has developed a new hub and spoke service and along the way his organisation were Highly Commended for Partnership Working and reducing Anti-social behaviour by Greater Manchester Police. As part of his previous role, Raz represented the voice of young people and the voluntary sector on the Social Mobility Opportunity Area board for Oldham with a range of partners.
Raz Mohammed, Chief Executive Blackburn Youth Zone said:
"The role of interim CEO of Blackburn youth zone is exciting and I look forward to working with statutory partners, the voluntary sector, patrons, the board, young people and communities to build upon the strong foundations already developed to create the best services for young people and the community.
My motto is to develop the best services for young people we must work collaboratively with partners and invest in our teams. In turn, that will give us all the best chance of developing positive engaged and integrated citizens that are ready for work and life."
Raz is also an avid football, cricket and boxing fan and likes to spend time with his family and friends or volunteering in his hometown of Huddersfield setting up youth clubs and projects for local residents and faith institutions.
Welcome to the team Raz!