Blackburn & Darwen Youth Zone Supporters Lunch
Local businesses attended the Blackburn & Darwen Youth Zone Patron Event on the important topic of 'supporting your employees through the Cost-of-Living crisis' hosted by Chair of the Lancashire Business View, Richard Slater.
Richard welcomed the panel comprising Wayne Wild, Chairman of Darwen Town Deal; Jules Roberts, Director of Thrieve Lab; Vishal Jain, Founder and CEO of Fair Quid and Sturt McDonald, Head of Branch at Herbert Parkinson.
The panel discussed financial well-being within the workplace and the pressing importance of employers doing everything they can to support their employees' financial circumstances.
Setting the scene, the event focused on an historical and prevailing taboo around the reluctance for employees to talk about their personal finances to their employers. Notably, recent reports found three-quarters of employees have never spoken about their financial well-being to their employer. Wayne Wild spoke of Fair Quid, a well-established and proven service available for all employers.. Fair Quid, a credit Union, provides support through low-interest loans. Fair Quid deducts loan repayments and sets up savings simultaneously to encourage the reduction of debt while at the same time, increasing savings.
Panel members challenged leaders to create a culture where employees feel comfortable, supported and listened to when it concerns their financial well-being, particularly during the Cost of Living crisis when household finances are being pushed to their limits. Active leadership, role modelling, bespoke schemes and adopting a personalised approach for each employee are some of the many takeaways businesses in attendance took from sector experts.
The event was well attended with over 120 representatives of companies and individuals who provide support towards the £2 million required every year to keep Blackburn & Darwen Youth Zone's doors open.
Wayne Wild – Chairman of Darwen Town Deal and Trustee of Blackburn & Darwen Youth Zone, said:
'People are every business's biggest asset. Now, more than ever, every company has to show they care and act with genuine interest and effort to do everything they can to support every employee's financial well-being. Our discussions today have provided plenty of food for thought on ways for businesses to consider what they can now do and the contacts, networks and services available locally to make this happen."
In attendance were; Totally Wicked, Staci, OnSide, Blackburn with Darwen Council, BAE Systems, Suez, Signature Tax, Multevo, Darwen Bar & Leisure, Affinity Packaging, Blackburn Chemicals, Fagan & Whalley, Pets Choice, Workhouse Marketing, Blackburn College, Watson Ramsbottom Solicitors, Prometheus, Cardboard Box Company, Graham and Brown, Crown Paints, Symclean, Sagar Insurance, Forbes Solicitors, Blackburn College, Granby Marketing, Fruity Illama, PM+M Accountants, WEC, Herbert Parkinson, Lancashire Business View and other Patrons and Supporters.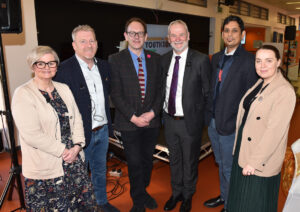 If you are interested in joining the Blackburn and Darwen Patron network please contact: melanie.thomas@blackburnyz.org