Junior Club Weekly Timetable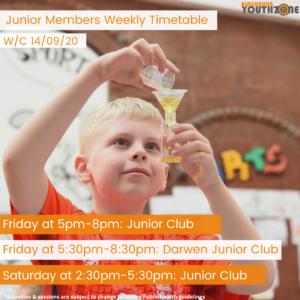 This week, Junior Club members have the opportunity to join in with sessions and activities in Blackburn Youth Zone.
This includes:
Junior club on Friday from 5pm-8pm and Saturday from 2:30pm-5:30pm.
Darwen Junior Club on Friday from 5:30pm – 8:30pm.
*Please note: Activities and sessions are subject to change following Public Health guidelines.