Connecting young people and the business community
Blackburn Youth Zone online programme grows, as we're reaching out to the business community to see how they can help provide learning experiences for young people from across the town, by sharing their industry lead expertise, skills and experiences to help teach others.
This project is delivered via digital platforms through masterclasses, which will invite young people from all backgrounds to participate within a 1-hour workshop around a specific topic/interest. This is for school years 9 – 11 and will run every Wednesday 2pm – 3pm.
If you are interested in taking part please contact enquiries@blackburnyz.org or message on Facebook @blackburnyz or if you are a school contact leon.crosby@blackburnyz.org
Wednesday 10th June at 2pm – BAE SYSTEMS
Introduction to Technology & Employability
BAE Systems with Ryan Walmsley which will be an introduction into Technology and Employability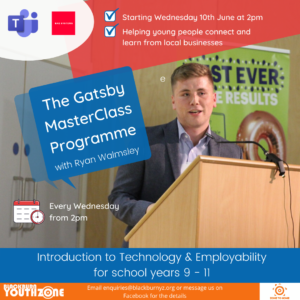 Key Elements:
Apprenticeships – Ryan has completed an apprenticeship with BAE Systems and now manage a team within the F-35 Production Line
Volunteering – Ryan will be speaking about his journey as a Community Ambassador for a local charity
Mental Health Stigmas – Ryan will be discussing how to spread positivity
Setting goals – Ryan will discuss how to set goals and accepting knock backs
Wednesday 17th June at 2pm – 3pm
Introduction to Technology & Employability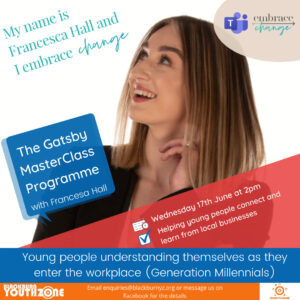 Wednesday 24th June at 2pm – 3pm
Introduction into becoming a Lawyer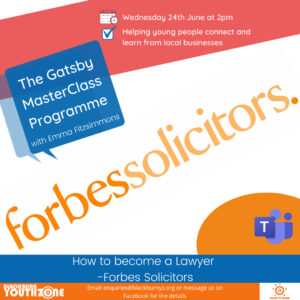 Wednesday 1st July 2pm – 3pm
Introduction into Accountancy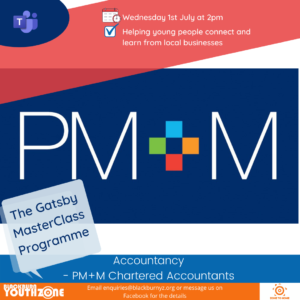 Wednesday 8th July 2pm – 3pm
Entrepreneurship and overcoming adversity