A farewell event for the Knife Angel, celebrating photographs taken of the 27ft sculpture has been held as it moves on its tour.
A total of 662 photographs were submitted to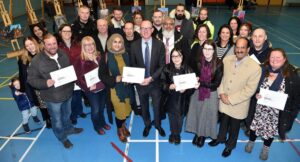 the Lancashire-wide social media competition using the hashtag #KnifeAngelLancashire.
The shortlisted 20 entries work was displayed at Blackburn Youth Zone on Saturday on easels, along with comments from the judges – which included the sculptor Alfie Bradley.
The winner of the over 18 category was Aneesa Sidat, a mum-of-two and part-time photographer from Blackburn, and the winner of the under 18's category was Kelcey Firth, 17, from Blackburn.
Kelcey, from Mill Hill, said she was shocked to be selected as one of the winners.
She said: "It's phenomenal to see my work exhibited. I have been to see the Knife Angel many times. It's really emotive. I volunteer and took a junior group to see it.
"It's inspiring to see how many people have been affected by the statue. I'm really proud to be named as one of the winners. I have been looking and all the images are good."
Aneesa, from Roe Lee, said: "The competition has brought people together. There have been so many mazing photos submitted. It's interesting to see how the sculpture has been interpreted so differently in each picture.
"I'm pleased and shocked. I didn't expect to win at all."
Blackburn Cathedral, Lancashire's Police and Crime Commissioner Andrew Snowden, the Lancashire Violence Reduction Network and Blackburn with Darwen Council have worked together to bring the Knife Angel to Lancashire with an associated education and engagement programme that has benefitted the whole of the county.
The event was opened by Andrew Snowden, Police and Crime Commissioner, who spoke about the impact of knife crime.
The certificates were presented by Bethany Stephens, from Lancashire Youth Commission on Crime eduction and Prevention, and Canon Dr Rowena Pailing on behalf of Blackburn Cathedral.
The Knife Angel has already toured 13 UK towns and cities, but this is the first time it has been to Lancashire. The Knife Angel will now move on to Carlisle.
An album of the shortlisted entries is available to view on the Knife Angel Lancashire Facebook channel.