Providing a digital service for young people which engages, stimulates and educates through the youth zones social media platforms. The family can even join in!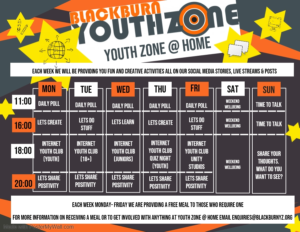 Workshops will be delivered via online platforms. These workshops will be delivered to specific groups and will increase engagement, learning and development around a specific topic for both 8 to 12 years and 13 plus.
Activity sessions will be delivered through live streaming and recorded video content. Providing a mix of interactive learning, quizzes and chat, delivered every couple of hours throughout the day.
The theme of digital offer:
Let's learn
Lets do stuff
Let's share positivity
Digital Activity (Monday to Sunday) Delivered 7 days a week
12.00pm – Daily Doodle (Providing a creative task)
2.00pm- Daily Poll (Providing young people the opportunity to set their own goals and keep their routine)
4.00pm – Learning and development activity
7.00pm – Recreational and Play (Different challenges)
9.00pm – Positive words and inspiration post
Bespoke workshops (Coffee Club, Time to Talk, Skill Development, Training) – Closed group work sessions where young people can stay connected, explore topics relatable to them and learn.
5.00pm to 7.00pm (Monday to Friday)
For information on how to get involved with any of our interactive workshops please contact us via Facebook on @blackburnyz us or email enquiries@blackburnyz.org!
Over the coming weeks, we will be having all of the BYZ fun but at home!! Keep an eye on all of our social media channels for activities, videos and ways you can be part of the fun!